Putting the controls into the hands of the travel agents with custom, fully-interactive tools in SABRE's Graphical Air.
---
Services
User Interface Design, Specification writing
Project Duration
Jan 95 – June 99
Media
Director Prototypes, Java Implementation, Dialup Network
Project Description
The SABRE Group maintains one of the world's top travel reservation computer systems, which is used by over 30% of the world's travel agents. Well aware of the increasing productivity pressures being encountered by travel agents, from fee caps imposed by airlines to competition from the Internet, SABRE saw the need to radically upgrade its product's aging command-line user interface to a more user-friendly and powerful graphical version.
From 1994 through 2000, AM+A completely redesigned SABRE's flagship Air Booking application, a part of the suite of products called Planet SABRE. AM+A also designed the accompanying Seat Map program, which features animated passengers. AM+A's interactive design specifications helped guide the 30+ member programmer team. In all, AM+A worked with SABRE for six years with future lines of business: PlanetSabre, Travelocity, and Sabre Business Solutions corporate reservations.
Design of Graphical Air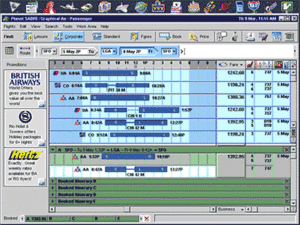 Gantt bars depict flight durations, stopovers, aircraft size, and meals.
Because travel agents get paid for each reservation and survive by repeat business, they need to work quickly and accurately. Therefore, one of AM+A's main design objectives was to allow as much interaction as possible to occur conveniently on the main screen.
The integrated Route Field allows fluid, on-the-fly city and date entry and then draws a "map" of the trip. Chart-like bars depict flight duration, stopovers, meals, and aircraft size. Context-sensitive hotel, car, and other "Coupons" can be used or saved for other trips. The "Bin" at the bottom collects alternative Itineraries for easy comparison. The detail matrix to the right of the fares shows details and fare rules for the flights.
Controls and data are arranged according to users' workflow, moving from the upper left to the bottom of the screen.
Animated Passengers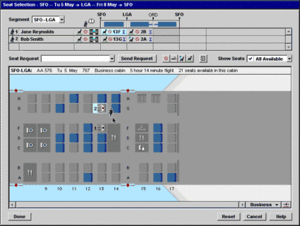 The Seatmap Utility
Graphical Air's Seatmap Utility allows travel agents to select the best seat for their customers. Clear mapping allows easy decisions for Aisle, Window, and bulkhead seat assignments, as well as for avoiding the dreaded seats near lavatories and the mysterious "undesirable" seats, marked " : ( ".
Before/After Specification View
Current seatmap data is in the form of a matrix of letterforms that map out the aircraft cabin. AM+A designed a mapping system that can take seatmap data from any airline and dynamically draw graphical maps that are visually and sematically consistent from plane-to-plane. The travel agents' customers are placed in seats automatically according to predefined preferences, but can be reassigned by the travel agent to alternative seats if necessary. Reassignments send the passenger icons running to their new seats.
At the top, a matrix provides a cell for each passenger and each leg of the trip being booked. This acts as a visual aid to track progress in assigning seats for all passengers on all flights.
Interactive Specifications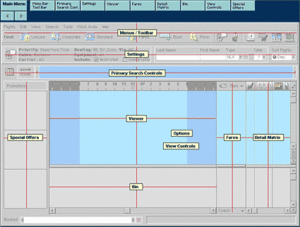 To communicate AM+A's designs to SABRE's Product Managers and Usability engineers, AM+A developed prototypes in Macromedia Director based on typical use scenarios. To communicate AM+A's entire set of detailed design specifications to SABRE's team of over thirty software engineers in multiple locations, AM+A developed an interactive specifications format using Macromedia Director.
Specifications in context
Point-and-click navigation allowed SABRE engineers to easily find the often-updated design specs that combined artwork, text, and animations describing and naming the many custom widgets, behaviors, and navigation. AM+A built the specifications' navigation system based on typical screen views of Air Booking's Main screen and other working screens. Showing animated sequences allowed AM+A to convey the complex inter-relatedness of the objects and commands.
Engineers need Specs that are complete, accessible, convenient, unambiguous, and detailed in order to accurately build products as designed. AM+A's Interactive Specs accomplished all of these for Graphical Air.
Download Demo
SABRE Graphical Air Demo Compressed (1.3MB)
SABRE Graphical Air Demo Uncompressed (4.9MB)
This is a Macromedia Projector file that demonstrates the appearance and high-level functionality of this project.
Technical information: Monitor support for the Demo is 800×600 running at 8bit (256) color. Windows 95/NT/98/XP/Vista compatible.
How use the Demo: Use the Left and Right arrow keys on an extended keyboard.
Posted on 7 July 2008 in
Archives
|
No Comments »
You can follow any responses to this entry through the
RSS 2.0
feed. Responses are currently closed, but you can
trackback
from your own site.