AM+A helped Samsung innovate wireless devices of the future, using a unique process of research and contextual observation.
---
Services
Market Research, Contextual Observation, Focus Group, Concept Ideation, UI Prototyping
Project Duration
Aug 00 – Dec 00
Media
Macromedia Flash
Project Description
AM+A helped Samsung innovate wireless devices of the future, using a unique process of research and contextual observation.
Samsung asked AM+A to study the future of mobile phones and PDAs, and design a next-generation "smart phone." The challenge was to come up with a design that would both respond to and enable new behaviors, while avoiding the easy answers of "technology in search of a problem". The result was the user-interface for a mobile information device that we named "Mob-i."

Innovation comes from understanding unmet human needs. AM+A began with multi-pronged research, studying cultural and market trends, particularly in Europe, Asia and the US. AM+A contrasted the inherent strengths of desktops, laptops, and hand-helds. From our findings, AM+A created a framework that placed usage in five categories: relationships, self-enhancement, information resources, entertainment, and mobile commerce.
Contextual Observation
Given the hurdles of a "baby-face" display and tedious text entry, AM+A knew it would be a challenge making the device useful as well as usable. The best market intelligence often comes from simply spending time with your users. Smart phones will have social as well as business uses, so we spent days shadowing people in their normal daily routines. AM+A watched first-hand how they use not only cell phones and Palm Pilots, but also scratch paper and sticky notes. AM+A analysts took photos and logged the behavior of users as diverse as an entrepreneur, a teenager, and a minister, in order to inform the design.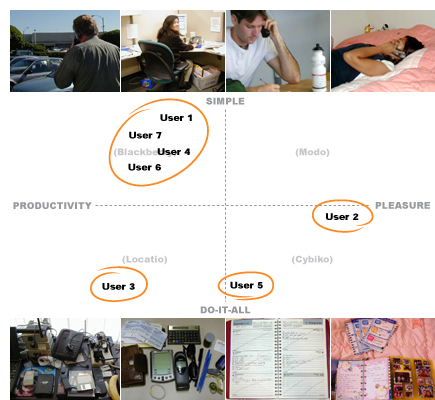 Concept Ideation
Next, AM+A conducted a series of structured brainstorming sessions. Some core features developed were: driving assistance, smart yellow pages, and e-coupons. Mob-i would take advantage of the always-with-you nature of a mobile phone to form a long term, very personal relationship with the user. Specifications describe a device made easy to use through adaptive menus, responsiveness to natural human behavior and awareness of its location. From the ideation process, AM+A provided Samsung with an illustrated catalog of conceptual product directions.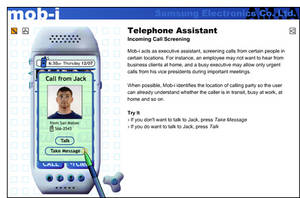 Prototyping
An interactive prototype was created to demonstrate key scenarios. This prototype allows users to visualize what it is like to receive an e-coupon when entering a store, or screen calls based on their locations. AM+A designed solutions to challenging but important situations, like creating appointments using voice commands and taking notes during a phone call. The final piece provides Samsung executives with a set of ideas for creating a breakthrough product that exploits the unique promise of wireless computing.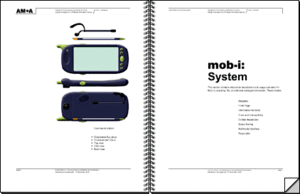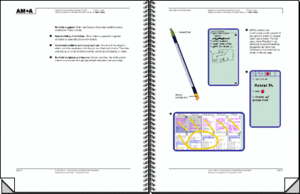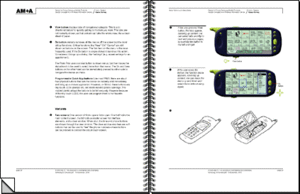 Posted on 7 July 2008 in
Archives
|
No Comments »
You can follow any responses to this entry through the
RSS 2.0
feed. Responses are currently closed, but you can
trackback
from your own site.