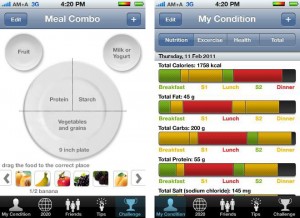 Finding a life-enhancing and life-preserving way of life is a 21st-century global challenge. Obesity and type 2 diabetes are increasing in many countries. Health/nutrition information, products, and services available to increase people's awareness of health issues and propel changes by monitoring food are targeted to the PC/Web, do not focus on innovative data visualization, and lack persuasive effectiveness. Communicating critical data helps build awareness, but does not result automatically in effecting behavioral changes. The question then becomes: How can we motivate, persuade, educate, and lead people to reduce their food consumption and exercise more?
For its Health Machine concept design of 2010, AM+A researched, analyzed, designed, and evaluated powerful ways to improve healthful behavior by persuading and motivating people, especially those 50+ from lower economic and educational levels, to reduce food consumption and increase exercise by means of a well-designed mobile-phone application concept-prototype: the "Health Machine." The author's firm designed and tested a prototype Green Machine application oriented to making energy conservation behavior changes in 2009. The Health Machine uses similar principles of combining information design/visualization and persuasion design. AM+A reviewed the presentation with a certified dietician and redesigned screens based on her recommendations. AM+A's presentation and white paper explain the development of the Health Machine's user interface, information design, information visualization, and persuasion design. AM+A is publishing a case study about the project and lectures about the project worldwide.
Posted on 1 October 2010 in
AM+A Blog
,
Featured-Projects
|
17 Comments »
You can follow any responses to this entry through the
RSS 2.0
feed. Responses are currently closed, but you can
trackback
from your own site.