CollabRX has given permission to distribute an AM+A Project Summary about AM+A's 2014 project, analyze its Cancer Therapy applications that provide cancer trial data and information resources for several kinds of cancers to physicians, then design the mental model and navigation of a mobile version per the platform constraints of a third-party mobile app developer. The project took about one month to complete. AM+A designed application-flow wireframes to act as guidelines for content and softward developers and sample screen designs. The Project Summary is available to prospective clients.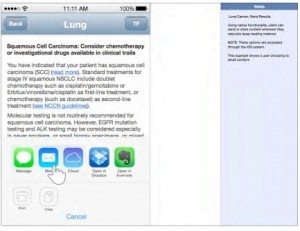 Posted on 12 March 2014 in
AM+A Blog
,
News
|
No Comments »
You can follow any responses to this entry through the
RSS 2.0
feed. You can
leave a response
, or
trackback
from your own site.